Andy Barnett Lives in Flagstaff
How to open your observatory in one easy stroke
:
Let Nature Do It !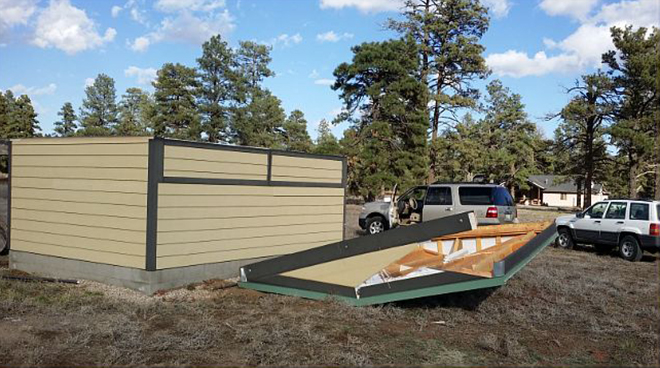 On Tuesday, October 27, 2015 6:49 AM, Andy Barnett wrote:
Unbelievable. A microburst (wind devil) ripped the roof off my observatory yesterday about 2:30 pm. Also, unbelievable, the telescopes were not damaged. In fact, very little was displaced inside the observatory. The roof was secured by turnbuckles and the motor that drives the roll off. 2x4s were ripped in half and bolts and screws were ripped out of the wood. The sky was clear and there was virtually no wind. The roof weighs probably about 1,000 lbs and is made of 2x10 framing 14" on center. This was a powerful wind devil. Thanks to several friends and neighbors (Rick Edmonds, Bill Burke, my neighbor Bob and Klaus Brasch) for their advice and help removing the scopes and installing a tarp last night.
From inside our house, we saw the twister across the street in a neighbor's driveway. It lifted off the surface and we didn't actually see it touch down and hit the observatory.
We're lucky no one was near that roof. Almost became famous for the launch of the most recent space telescope!