template_two_column_template
Featured Photograph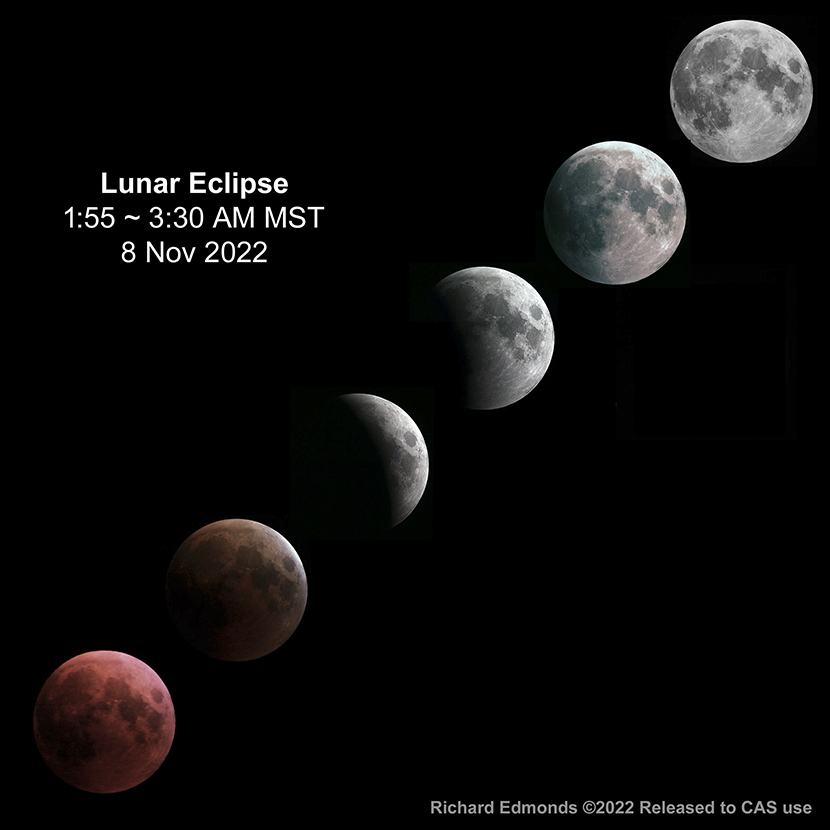 Composite sequence of the lunar eclipse on 8 November 2023. In the upper right the full moon is shown shortly after entering earth's penumbra at 1:11 AM. Shadowing of its western limb is not yet apparent. In the final image to the lower left the moon is in full umbral eclipse at 3:30 AM. Exit from eclipse was not captured due to low elevation over the San Francisco Peaks.
All images were captured at prime focus through a 10" f/6.3 Meade SCT with a modified Canon T5i camera. Exposures ranged from 1/1000s at ISO 100 to 1/25s at ISO 12800.
Richard Edmonds
---
The featured photograph is any astronomical photograph provided by one of our members. If you are a member and have a photogaph you would like to submit please send the request along with the photograph and description to: info@coconinoastro.org.
Upcoming Events for the Year
CAS 2023 Calendar
This is a thumbnail of the pages for the 2023 calendar. The Calendar is being produced by SnapFish. Click on the thumbnail for a larger image.
2023 Calendar
© 2022 Richard Edmonds
Calendars are available for $15/ea. Sale of 30 calendars will be honored by reservation only at the link below. Note this link is for reserving a calendar and does not have provisions for paying for the calendar. Payment will be cash or check presented at the time you receive the calendar. Calendars will not be mailed out.
Use this link to reserve one or more calendars: https://forms.gle/1TjPuVHcuQTjwZdt6
Activities for December 2022
---
Monthly Meeting for December
Saturday, December 10, 2022
CAS Christmas Dinner
The meeting is at 2:00PM at the Park's Clubhouse. Further details to follow.
---
CAS Monthly Meetings and Astronomical Programs are held the Saturday closest to the Full Moon at the Mars Hill Campus of Lowell Observatory, Hendricks Center for Planetary Studies Auditorium (6:45 pm - 8:00 pm., unless otherwise noted) followed by refreshments, and informal discussion. Meetings are open and free to the public.