Featured Photograph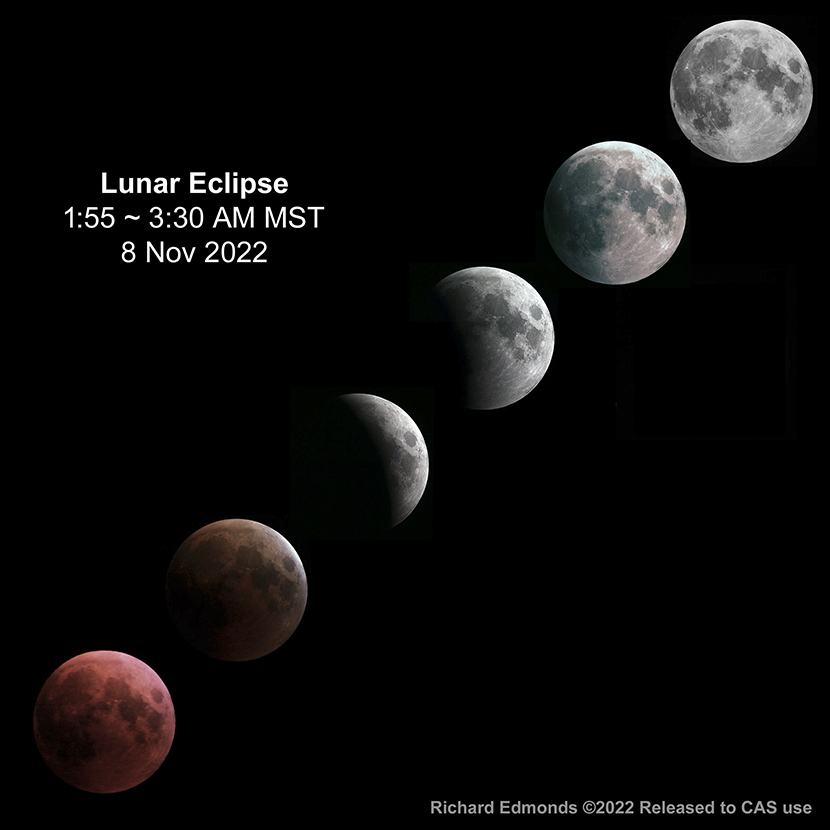 Composite sequence of the lunar eclipse on 8 November 2023. In the upper right the full moon is shown shortly after entering earth's penumbra at 1:11 AM. Shadowing of its western limb is not yet apparent. In the final image to the lower left the moon is in full umbral eclipse at 3:30 AM. Exit from eclipse was not captured due to low elevation over the San Francisco Peaks.
All images were captured at prime focus through a 10" f/6.3 Meade SCT with a modified Canon T5i camera. Exposures ranged from 1/1000s at ISO 100 to 1/25s at ISO 12800.
Richard Edmonds
---
The featured photograph is any astronomical photograph provided by one of our members. If you are a member and have a photogaph you would like to submit please send the request along with the photograph and description to: info@coconinoastro.org.
Activities for September 2023
---
Monthly Meeting for September
Saturday, September 30, 2023
Presenter Jeremy Perez
Title: "Heavenly Interventions"
A visual tour of interlopers small and large that inject themselves between our optics and the deep sky. Sometimes a nuisance, sometimes spectacular — this photographic journey will explore the range of visual opportunities they present the wide field photographer.
Jeremy is an art director who grew up in the light polluted heart of Phoenix, but has been enjoying the magnificent Flagstaff environment with his family since 1994. He is an amateur astronomy observer/writer/illustrator and a landscape/nature photographer who loves capturing the night sky and chasing storms whenever he gets a chance.
---
CAS Monthly Meetings and Astronomical Programs are held the Saturday closest to the Full Moon at the Mars Hill Campus of Lowell Observatory, Hendricks Center for Planetary Studies Auditorium (6:45 pm - 8:00 pm)., unless otherwise noted) followed by refreshments, and informal discussion. Meetings are open and free to the public.