Featured Photograph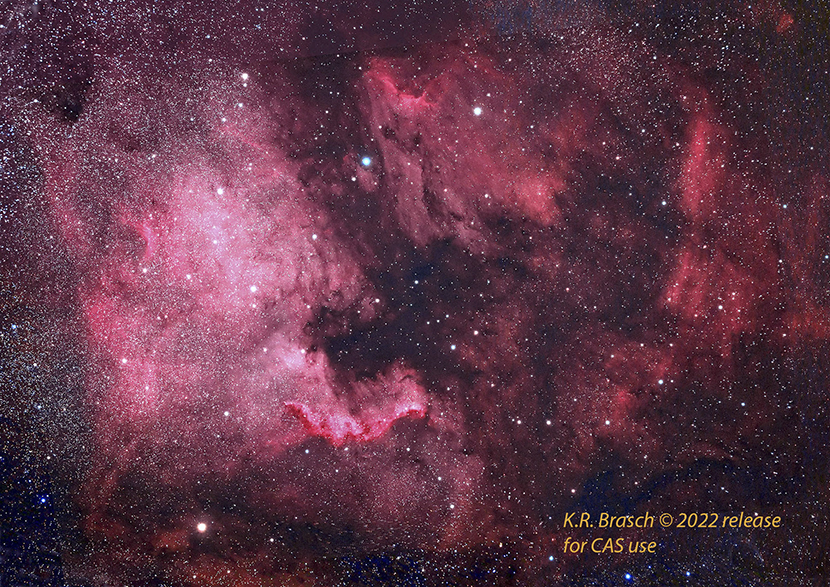 Who doesn't love the North America Nebula (NGC 7000)? On really dark, transparent nights you can actually spot it by naked eye close to Deneb in Cygnus. What we tend to forget is that this enormous start forming complex, about 1,700 LY from us, also includes the Pelican Nebula (IC 5070) and additional extended nebulosity and dark dust lanes.
This image, taken with a TMB-92 f/5.5 refractor and modified Canon 6D and IDAS LPS-V4 filter, covers about 90% of the brightest portions of this complex. This mosaic was composed from 8 x 2–3-minute frames shot at ISO 3200. Images were stacked in Affinity Photo and then processed in Photoshop CS6.
Klaus Brasch
---
The featured photograph is any astronomical photograph provided by one of our members. If you are a member and have a photogaph you would like to submit please send the request along with the photograph and description to: info@coconinoastro.org.
Upcoming Events for the Year
CAS 2023 Calendar
CAS is producing a new club calendar for CY2023 and I need your photographic inputs to complete it. Subject matter is open to atmospheric phenomena, astronomical field trips, star parties, events, equipment owned or upgraded, deep sky and LPI. Please send submissions to me at edmonds03@msn.com. Photos should be taken within this calendar year or since November last year.
Richard Edmonds
Activities for May 2022
May 15, 2022 Total Lunar Eclipse
On Sunday evening, May 15, there will be a Total Lunar Eclipse. This will be the last total eclipse of the moon visible from Arizona in the evening until March, 2025. The duration between Partial Eclipse Phases beginning and ending is 3 hours and 28minutes. (Note: All times below are local time MST.) Best viewing is with a clear southerly horizon. Bring your binoculars.
| Phase | Time | Lunar Directiona nd Notes |
| --- | --- | --- |
| Moonrise | 7:12 pm | ESE |
| Partial Eclipse Begins | 7:27 pm | ESE - 2 degrrees above the horizon |
| Total Eclipse Begins | 8:28 pm | SE - 12.5 degrees above the horizon – will be deep reddish in color. |
| Total Eclipse Ends | 9:53 pm | SE - 24.5 degrees above the horizon. |
| Partial Eclipse Ends | 10:55 pm | SSE - 30.5 degrees above the horizon |
Skywritings by Barry D. Malpas – Special to the Williams-Grand Canyon News
---
Monthly Meeting for May
Starting with this meeting we are retuning to regular in person meetings at Lowell Observatory
Saturday, May 14, 2022
Dr. Danielle Adams, Lowell Observatory
Title: "Arabian Astronomy"
Dr. Adams earned her PhD from the school of Middle Eastern and North African Studies at UofA, with a minor in Cultural Anthropology. Herresearch centered on the development of Arabian astronomy from pre-Islam into the first centuries of the Abbasid Period. Her academic highly interdisciplinary program combined the fields of Arabic literature, cultural anthropology and astronomy. Fluent in Arabic, she lived in Beirut, Lebanon, for three years while studying Arabic poetry and Arabian astronomical texts.
---
CAS Monthly Meetings and Astronomical Programs are held the Saturday closest to the Full Moon at the Mars Hill Campus of Lowell Observatory, Hendricks Center for Planetary Studies Auditorium (6:45 pm - 8:00 pm., unless otherwise noted) followed by refreshments, and informal discussion. Meetings are open and free to the public.